PrevEx FTA Analyzers obtains Functional Safety Certification according to SIL2/SIL3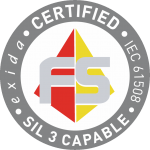 After SIL1 and Performance Level d (according to EN ISO 13849-1) the PrevEx FTA analyzers of the 670 series have been certified by exida LLC to conform to the requirements of functional safety levels SIL2 and SIL3.
A single PrevEx FTA analyzer can be integrated in a safety-instrumented system with SIL2, two redundan anylzer can even achieve SIL3. The safety function of the analyzer is the danger relais, the demand rate must be at most half the rate of calibration.
Functional safety has become more and more important in the last years for the LEL monitoring of industrial processes and we are proud that we can now offer a full array of functional safety levels:
for process technology and for sytems governed by the EU machine directive
for low demand rates and for continuous demand rate to the safety function