The PrevEx flammability analyzers for LEL monitoring
use the Flame Temperature Analysis (FTA) principle and consist of a whole series of models for the continuous monitoring of the concentration of combustible gases and vapors as a percentage of the lower explosive limit (LEL, LFL), primarily in industrial processes. The superior qualities of the detector and the sampling system assure the most accurate readings and highest reliability in the most demanding applications. The rugged, industry-grade design allows the installation and operation of the analyzers even in harsh environments.
LEL monitoring of industrial processes such as solvent dryers or thermal oxidizers
Uniform sensitivity versus different substances ensures accurate readings also for complex gas mixtures
Online mounting in combination with a heated sampling system allows reliable, fast measurements and minimizes maintenance.
Also available for installation outdoors or in hazardous zones
ATEX type examination certificate includes the approval as a measurement device for explosion protection according to EN 60079-29-1 and EN 50271
Available levels of functional safety: SIL1/SIL2 (for a single analyzer) and SIL 3 for redundant analyzers, all for low demand mode.  PL d for a redundant analyzers for up to continuous demand rates.
PrevEx Analyzers are used in all industrial processes where combustible gases or vapors are released. Typical applications range from flexo to coil-coating (even ceramic kilns) to the monitoring of exhaust ducts before thermal or catalytic oxidizers in the chemical and pharmaceutical industry.
Accessories: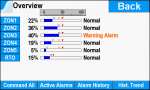 Operator panel series FTA Monitor 670 CT for the remote control and SCADA for PrevEx FTA analyzers of the 670 series.